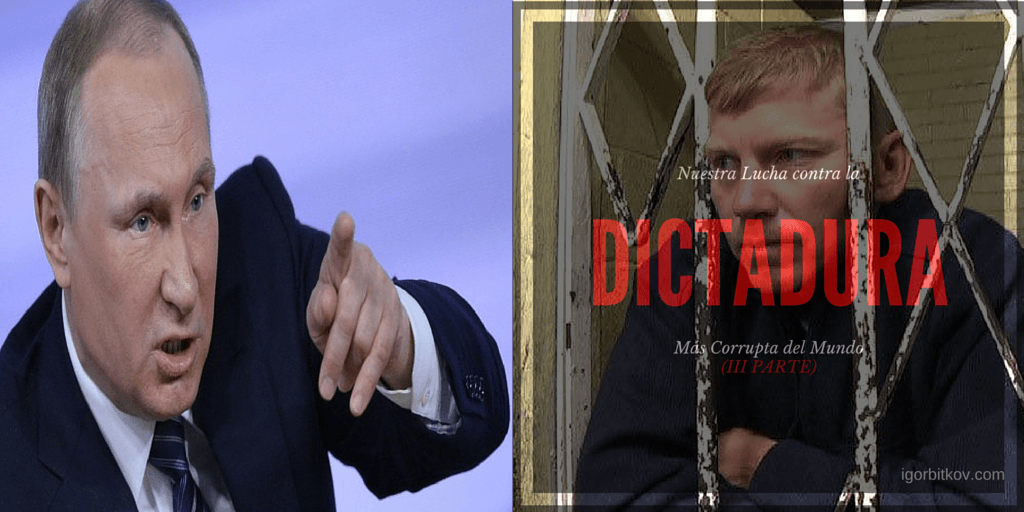 Byt the time our daughter Anastasia was in England, studying at school and university, the agents of "FSB" several times, detained her at the airports, when she traveled and they made illegal interrogations, demanding her to say, where were her parents.
From the beginning we thought about seeking political asylum in some European countries, but did not do this for two reasons.
There was a much bigger risk, which was reason for our families and ourselves. Dictatorship pursues not only individuals but also their families we had many examples, when asylum seekers simply were killed by  agents of "FSB". Our parents have died, suffering persecution
A few months after we left Russia, I the governor of the region where our factories were call to my cellphone. He told me that  V.Putin representatives wanted to talk with me. I was still using the same phone number that I was using in Russia, I still wanted to be in contact with government, hoping for the prudence that should be. V.Putin representatives asked me if I wanted to solve my problems? .. Certainly I said yes! … Then I was told that everything has its price. I need to pay 10 million Euros at that time amounted to 15 million dollars. I replied immediately that NO! They tried to convince me. Finally they were angry because I refused to cooperate and the I was told; "Anyway You will be captured and your problems only began at that time."
Among all threats they told me that my family would not be safe as well. That was no sign that was the sentence.
Putin's regime is a mafia they do not speak empty words, always trying to enforce its judgments.
In 2008, when we left our country, in Russia there has been happeing other false elections. Was elected new president Dmitry Medvedev, who formerly occupied the post of prime ministers. It is that the constitution prohibits V.Putin to be president for the third time. In fact, Medvedev was an obedient puppet for V.Putin, who immediately was appointed as Prime Minister and si he was ruling the country as before. Shortly after they changed the country's constitution which allowed next president to increase his period of 4 to 6 years. They knew that next president had to be V.Putin and he was about to rule again, because for two periods of six years, which gave legitimate chance to be president 12 years … So Putin obtained legitimate chance of being president for 24 years! Putin will invent other ideas, for keeping his power until his death.
Now everyone knows the falsity of the Putin regime. But in 2008. He managed to fool everyone! This false maneuver allowed Putin to keep his image as a legitimate leader, facing democratic countries. In addition, the new leaders of these countries as Barack Obama, Angela Merkel and others. They are trying to maintain friendship with Putin, despite all the abuses committed over democracy in Russia.
Putin knew how to take advantage of that friendship. Many Russian oppositors, who were requesting refuge in Europe, were delivered to the hands of "FSB" by false claims of the Russian side, without a proper investigation.
For example, in May 2008 a friend of mine who owned a paper company in Russia, asked for political asylum in Germany, but was extradited by Russian demand that falsely accused him for alleged economic crimes. The man was an opponent of the corrupt regime of Putin. To this day for eight years he has been in Russian prison without judgment. When Barack Obama became president of U.S.A. in 2008, he declared a recharge of relations with Russia, trying to keep friendship with Putin regime.
In these circumstances we were in high alert, instead of being served as refugees be extradited to Russia or worse, being killed by Russian agents of "FSB". As were killed Alexander Litvinenko, Boris Nemtsov, Sergei Magnitsky and many other Russian opponents.
Why Putin regime Kill people like us?
A simple example, a few days ago everyone recognized that through an offshore Panamanian company, a childhood friend of Putin, a violinist Sergey Roldugin received two billion dollars into his bank account, well hidden in Panama. The same man confessed that money does not belong  to him, of course! When it was discovered where these funds came from, it appeared that this money had been sent by many big Russian businessmen.
Interestingly, the dates of such transfers consist in major problems suffered by these entrepreneurs of Putin. In other words Putin pressed them through the state, to stay out of trouble they made sure that money was paid to that account. Fully two billion dollars. And I already wrote that they pressed us as the leaders of Putin, to pay to one of those accounts 10 million EURO, which was equivalent to 15 million dollars, how much clandestine accounts Putin has around the world?
There are estimates that his personal fortune exceeds 200 billion dollars That's three times more than the total GDP of Republic of Guatemala! We refuse to pay. We refuse to be slaves of that demonic regime. Building new factories, we had a lot of support from people in places where we work. That made us dangerous enemies of the dictatorship.
8 years ago the leaders of democratic countries knew very little of the truth about Putin regime. Those who knew of us and some others, who escaped from the clutches of dictatorship. In these cases it acts as a mafia dictatorship, which eliminate witnesses. We are witnesses of their crimes, which sooner or later will be judged by the world and God.
Also in Panama, it was discovered something very interesting, related to our case.
Among the companies that generously filled the intended V.Putin account for billions of dollars. there were two Russian Banks "VTB Bank" and "SberBank" as I said before, these are banks that belong to the Russian government. Here we can see, how these banks are involved in the dirty schemes of President Putin. The bank "VTB" sent 650 million dollars to the account that nominally belongs to S-r Roldurin, who never was an entrepreneur. Money comes from the loan agreement. A little later for $ 1 S-R Roldugin receives the right of not paying that loan the to bank. So the VTB bank launders money for their employer V.Putin.
The other government bank. SberBank makes a more cunning scheme. Through a financial company "RoyaKa Dialog" that belongs to him, the bank sells shares of other companies of Roldugin, without paying for them, two days after they buy those same actions for a much higher price and thus increasingly that leaves several million Dollars.
Both banks VTB and Sberbank are sanctioned by governments from the European Union U.S., Australia, Canada, Switzerland and other democratic countries.
The subjects of these countries states that it is prohibited to them having any business with these banks. Sberbank and VTB Gazprombac. Putin's government was using it as a weapon to rip us off and steal our company. Here in Guatemala he uses VTB to denounce us falsely, and give some legitimacy to this political  pursuit! Could you imagine how much money as bribe this bank gave to officials who have agreed to be corrupt in Guatemala, if they can easily give 650 million to a single man!
For now, the international community found many details of the evil regime of V.Putin. Even many innocent people lost their lives in wars that Putin unleashed in Ukraine, Giorgia, Suria.
In this historical period Putin regime seems more and more like the Hitler regime.
Remember, that the first victims of Hitler, were the Germans, as Russian opponents were first victims of Putin.
We came to Guatemala believing that the company "Cutino International" was going to provide us the legal service to refuge in Guatemala. As appeared, the service company allowed us to receive identification documents with name changes, but 5 years later it appears that the procedure contained some changes and was not completely legal, but everything was done by state institutes RENAP and Migration. The only guilty of these facts, according to the MP are us! They do not even want to hear or mention "Cutino International" It seems that famous impunity in this case is obvious. But the same MP stated in my first audience, which began by russian complaint, the it was made in January 2014. Then the whole process was initiated and led by the Russian government.
Our struggle against the dictatorship of Putin, for now still in the area of Guatemala. The Russian FSB people have their allies among corrupt officials and supporters to the tremendous dictatorship people. The creator of the communist state in Russia, Vladimir Lenin, calling them supporters of his regime as "useful idiots" Before KGB and now FSB, always looking for such people because they can be used for free. Most of them still believe in the idea of communism and believe that Putin's Russia is heir to the communist regime. What they have inherited is cruelty, hypocrisy and slavery of their own people. As before, they are in confrontation with everyone, the utopia of communism in Russia has nothing left. The only ideal of Putin and his colleagues is money. Putin's government is the most corrupt government in the modern world.
We are fighting against corrupt dictatorship over the world.
Follow me [feather_follow]
Share