Justification of Evil
I was notified that childhood Judge Maria Belen Reyna Salazar filed an injunction against the Attorney of Human Rights by the decision issued on 8: 02: 2016.
This resolution states:
"Violation of the human right of the child who was the victim Vladimir (our son) …"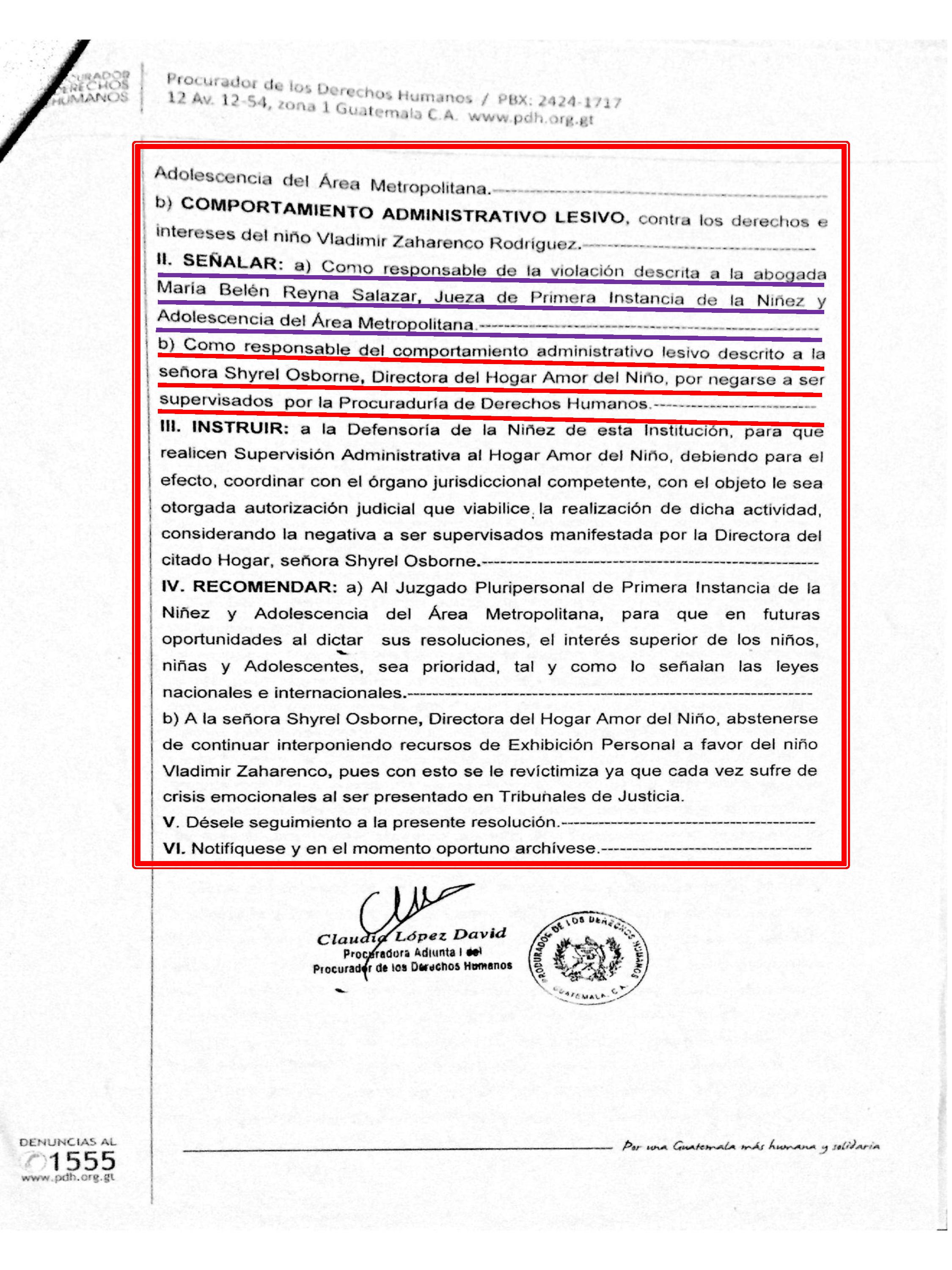 Designated as responsible for the violation described Attorney Maria Belen Reyna Salazar, Judge of First Instance of Children and Adolescents of the Metropolitan Area
As head of the harmful administrative behavior described Mrs. Shyrel Osborne, Director of Love Child Home charged for refusing to be supervised by the Office of Human Rights.
I recall that this judge on the date 02.10.2015, revoked the custody of my son Vladimir, who was given for us to Veronica Gonzales, confidante of my wife Irina that took care of her from pregnancy and then became nanny. And Rolando Alvarado our close friend and who is also our lawyer.
The judge took decision in a few minutes, a "few" minutes without the presence of parents (us) as we were prisoners both Irina and I … Imagine!
She sent Vladimir who was just 3 years old to the orphanage, though the Magistrates Court, with specific responsibility for protection on children threatened or violated on their Rights of the Municipality of Guatemala through a " Privileged Protection Process " I to make an order a Placement of my son with his extended family which conformed Veronica and Rolando, people of our total confidence.
Resolution (2 pages) of Judge Maria Belen Reyna Salazar where in just 25 minutes (see underlined purple) resolves to send my son Vladimir to the orphanage.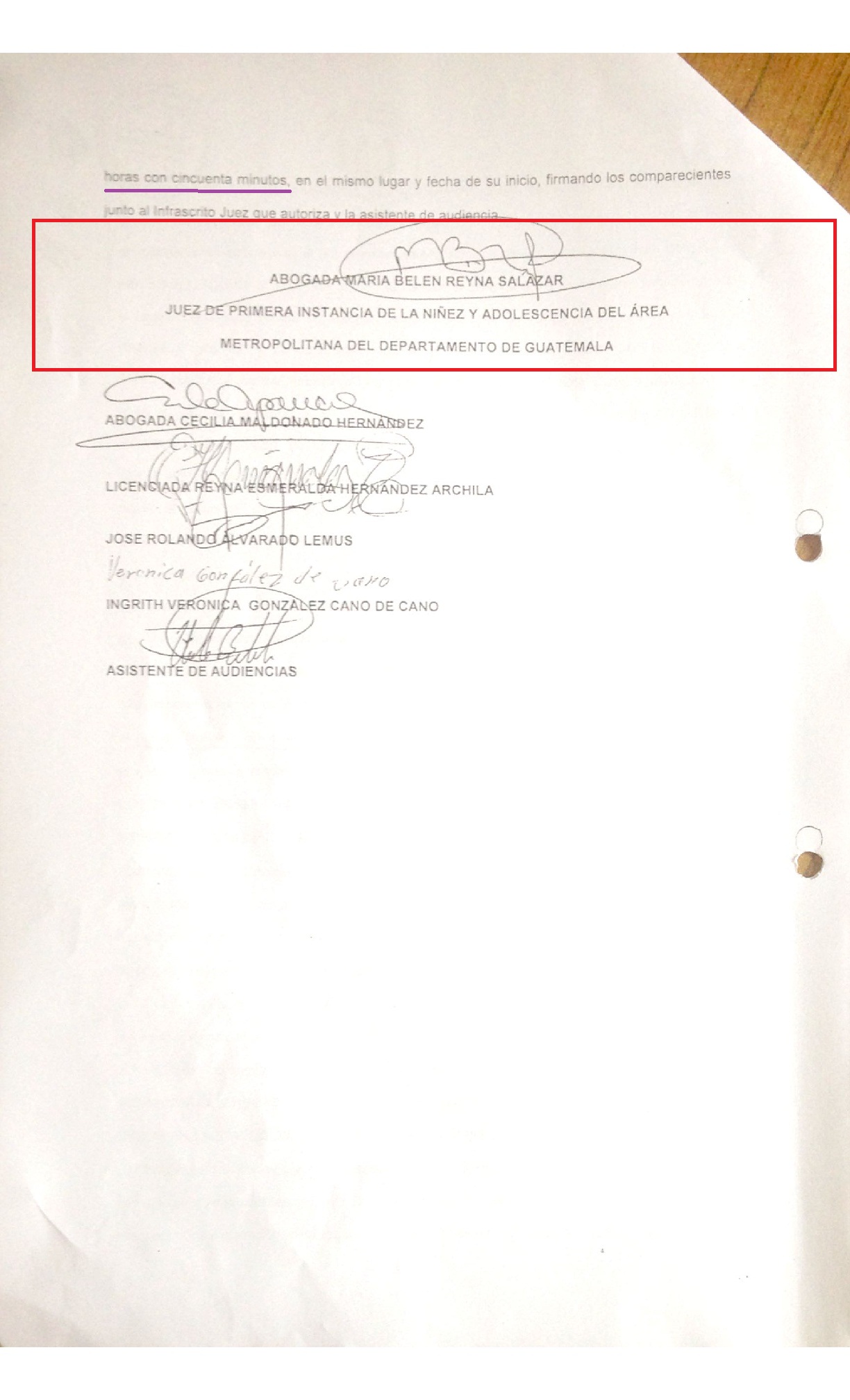 Our son Vladimir, during the days he spent with his extended family, he visited daily to mom and dad, had excellent conditions of life shaped by inspectors of PGN but the judge did not listen to anyone.
The  resolutions of Judge Maria Belen Reyna Salazar, it was overturned by the Board of Children and Adolescents in Conflict with the Criminal Law of Guatemala on the date 17/03/2015.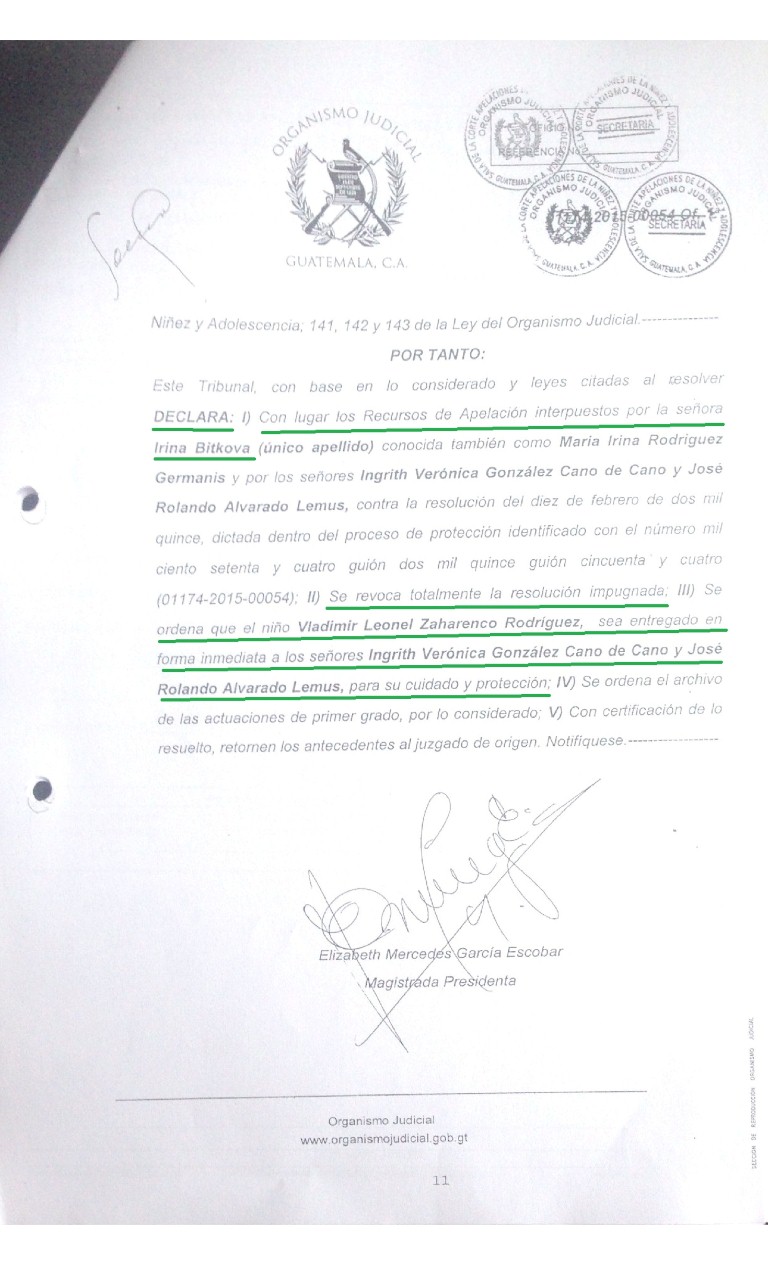 In addition, the Human Rights Ombudsman did his research and pointed to the violation of human rights with responsibility for Maria Belen Salazar.
With this matter Maria Salazar is altering the decision of PDH. In her defense the judge uses three arguments:
She could not locate the child's family"
"Inspectors PGN supported her decision"
"The child did not want speak and so they did not listen to him"
Judge says Russian embassy contacted and told her that at that time they could not locate the child's family
I would like to ask what is it, is this ignorance or judicial malpractice?
Among the documents that judge added  to PGN file there was a report that says that the child's father (that's me) is located in prison "Mariscal Zavala" and mom and sister they were in the hospital.
The addresses of these institutions were presented, there was no problem for the judge to take us to this audience, there was only need to be cited by a trade from prison and they could take us at once as any judge calls any person deprived of liberty. Simple it is and I'm no judge!
Besides this was their primary obligation by law, the judge severely violated it by not send especially citeation in a case where the guardianship and custody of our child was at risk.
Why the judge sought relatives in the Russian embassy? If she knew the location of us. What does Russian Embassy have to see with our if he is guatemalan from conception to birth all here in this beautiful country Guatemala … The answer is easy, because the same embassy tried to use our son to make pressure on us. They demanded us to give him Russian passport and send him to Russia. When we refused, the representative Pavel Astakhov of  V. Putin tweeted.
So that is the act of Putin's regime, Hard! Merciless!. In their plans they eliminated us as parents of our son Vladimir. They  want to separate our son Vladimir to facilitate our extradition illegally. At that time we still did not know that the judge was already prepared for the audience and to separate our son from us. By the way, when thee send him to the orphanage, on this day the Russian Ambassador P. Babich said in his interview that the child is under control of the embassy. It appeared that the orphanage is sponsored by the Russian embassy.
Another argument the judge stated is that inspectors of PGN  proposed to send the child to the orphanage, it contradicts the documents which are with already done in the counterdemand. There are documents of Verónica's interview … by court psychologist Jessica Carrido. Her conclusion is clear:
"The best suitable remedy as an interim placement of the child is with Mrs. Veronica Gonzales"
No resolution date 01/16/2015 court of Judge Marjorie Peace René Azpuri Villela who ordered the temporary placement of children in extended family Vladimir … nanny Veronica Gonzales together with the lawyer Rolando Alvarado.
There are psychological reports issued by the PGN Licda. Sheila Ninnette Santizol their final resolutions were issued one day before the audience.
"The Lord Rolando Alvarado and Mrs. Veronica Gonzales can continue to be made responsible for the child"
There are reports PGN research that says clearly in his conclusion that:

"The child … Vladimir is with Mrs. Veronica Gonzales, who is identified and attached by takin care of him since birth"
There are two social studies investigating PGN detailing all aspects of social environment for Vladimir while he was with Veronica at the home of Rolando.
The two reports confirm that the child has everything at that home for the perfect life. It does have solved the issua of  school (Village) and Olympic gymnastics classes, swimming and tennis for children also has its own room in a large house with garden and security, has toys, excellent food based on fruit and vegetables chicken salmon vertederas.
All these documents have given plenty of information for the judge, and observed that our son was looking very well after they put him under the custody of his extended family Veronica and Roland.
In addition, our son Vladimir by order of Judge Miguel Angel Galvez was allowed to be in the hospital with his mother and visit me daily in Mariscal Zavala.
It is surprising, as this judge has ignored all these reports and did the opposite not only of the law but of simple human logic. If Vladimir was suffering from the arrest of his entire family, but at least he was with his beloved ones Veronica and Rolando , whom he knew from birth and every day he visited his parents.
The judge inexplicably decided to take our 3 year old son Vladimir and put him in an orphanage to give him suffer from hunger in the absence of all his known beings and therefore to be vulnerable to suffer from diseases.
She forbade us to visit the orphanage besides forbidding any contact with his parents by telephone for being deprived of their freedom, and bring him a little food, toys, or medicine, plus she even banned giving any information to the parebts about his own son and this ordered by the judge which was duly fulfilled by part of the director of the orphanage Shyrel Osborn. She did not allow anyone, not even once to visit Vladimir. When we were allowed to make phone calls within the prison he never answered our calls, they jammed us or cut us each time the communication was possible and our voices heard.
The cruellest thing was that the judge did not accept that Veronica gave the recipes to the orphanage from Vladimir's pediatrician with medicines. God knows how Vladimir suffered!
The judge said they had not interviewed Vladimir because of "his emotional situation at this time would make him unable to talk" This is the biggest lie of all that judge says. I'll just present everything that reminded Veronica of this day, she will never forget as the biggest nightmare in her life.
Testimonym of Veronica, Vladimir´s Nanny
"When they entered the courtroom Vladimir was in the hands of Rolando and then he held him, as she hugged him very hard … It seemed that the boy had a premonition of what will happen … The judge, without lifting his head a cold voice ordered his assistant: "grab the child and take him to another office" … the assistant  tried to grab Vladimir arms off Rolando, but then he hugged him and started screaming NO … NO … ! I want to be with Rolando! Just with Rolando and Veronica!"
The judge more angry voice ordered Rolando: Give the kid away… he can not be in the audience!
Rolando, avoiding conflict, tried to ease Vladimir saying that only for a while he will be separated and then he will be returned. Vladimir began to mourn … and Rolando did not even know that once separated from his arms Vladimir would become part of an orphanage.
When they carried Vladimir into another office, he shouted as loud as any building audience and listened loud cries saying "I want to be with Veronica and Rolando" Vladimir shouted without stopping, Verónica coul not stand and began to mourn.
Meanwhile the judge gave her decision.
"Revoke the custody was given by Judge Marjorie René Azpuru Villeda, Extended Competition Judge for the Protection of Threatened Children which ordered the temporary placement to be enlarged to our son's family, in exchange Judge Maria Belen Reyna commanded to send the child to the orphanage.
Rolando tried to explain that the child was fine with them, but the judge interrupted him and told them that "you have no right to be with the child, because they are not their relatives. "
The opinion of the parents or the child, they had nothing against this judge. Rolando, being confused and desperate asked, if it was possible to visit the child in the orphanage, they  said: "No way neither you nor anyone else can visit the child, we want you not to cause trouble," answered the judge.
Rolando suddenly began to mourn too. The judge was angry again, and irritated voice she asked: why are you crying you are not the boy's parents?
Veronica was  crying: I beg you please allow the child to take his pachita, clothes and medicine to which the judge said: No way! Again the judge was angry.
She said – Forget the child from now on the orphanage currently takes care of him-
"Please let us say goodbye and talk a little with the child to confort him" – cried Rolando
No way! said the judge again … although that it was heard how the child screamed the judge said "Do not bother me and leave immediately!
Rolando and Verónica through the corridor of the metropolitan court of children and adolescents in Guatemala still listened as Vladimir shouted "I want to be with Rolando and Veronica" Get off me! Thus began a great suffering for us all. Irina cried every 40 days  long, hardly ate or slept as my daughter told me, neither I could eat or sleep. Without the possibility of communicating with our son, not knowing how he was, we used all legal remedies to return to our son, practically save him from this trap.
Finally on the date 17/03/2016 the Appeals Chamber of Children and Adolescents of Guatemala decided in our favor and declare among all that:
"The child Vladimir must be delivered immediately to Mr. Rolando Alvarado and Veronica Gózales for care and protection."
Shyrel Osborn, Love Child orphanage director, where our son Vladimir went,  refused return our son for more 5 days excusing that she did not receive any notification from the Appeals Chamber.
Veronica and Rolando all these days were in front of the gate of the orphanage where they were not allowed to enter by the well-armed guards with their rifles.
In the March 22th. Vladimir was returned. He was returned physically and psychologically seriously injured. Receiving the child in the next state
He lost two pounds.
Scars over his eye
A broken tooth
Inflamed stomach
Serious intestinal parasites (amoebas)
Conjunctivitis in both eyes
The most serious issue: psychological damage.
Vladimir was so cheerfully active before, talked a lot but when he was returned he stopped talking, his smile became inactive and just stared at us all with a look of suffering and bitterness. The little boy thought we did abandoned him.
From that date until now it has been a hard working to recover him to his initial state, although we know that the consequences of the damage suffered will never heal.
All this is a fact, that for now the judge is justified. I do not want revenge because "Vengeance is mine" says the Lord …
We want to share the following pictures: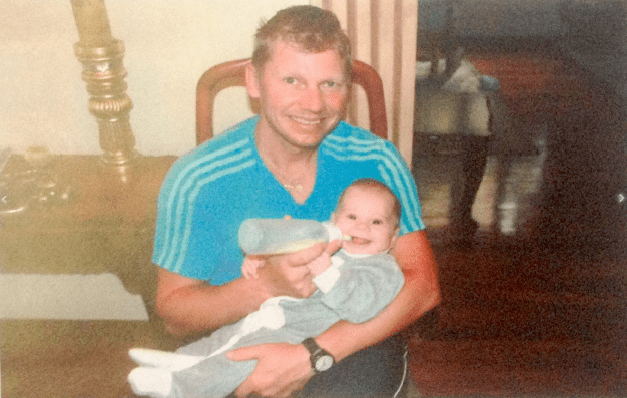 Vladimir as a baby taking his pacha.
My question is … How is it possible that this judge continues working in her charge?
Just imagine how much damage she had already done and how  can she do more if not stopped…
With this, Maria Belen Reyna Salazar shows she has no regrets. Try to justify the evil that she has done and this is really dangerous for all Guatemalan society but more for the children who caould pass through her hands judt like it happened to our son Vladimir.
Related Post: