This year a few months ago, it was published the result of the investigation by the authorities of England about the death of a Russian citizen Alexander Litvinenko
Alexander Litvinenko was a colonel in the Russian intelligence service (FSB).
In 1998 he stopped working for FSB and started working as security chief for Boris Berezovsky, who was a famous Russian businessman.
Among all, several newspapers and television channels in Russia belonged to Boris Berezovsky, for that reason his conflict with the new president of Russia V. Putin arises. The new dictator wanted power over all media in his hands at once.
In a short time Boris Berezovsky lost all his properties and had to fly away from the persecution, he moved  to England, then he began the process to have political asylum, the British authorities changed his name to protect him from persecution of FSB.
All were former FSB agents, and later agents of the security service for Boris Berezovsky, at the restaurant they drank tea, chatted and then gave a farewell to each other, after that suddenly Alexander Litvinenko fell ill, and was taken to a hospital, the University College Hospital.
A few hours later Alexander Litvinenko died, his body was immediately analyzed by the LABAR scientific center in Aldermaston, which is about 100 km from London. In the world there are very few places where you can perform this type of analysis as it is LABAR. They found that Alexander Litvinenko was poisoned with a radioactive element, polonium-210.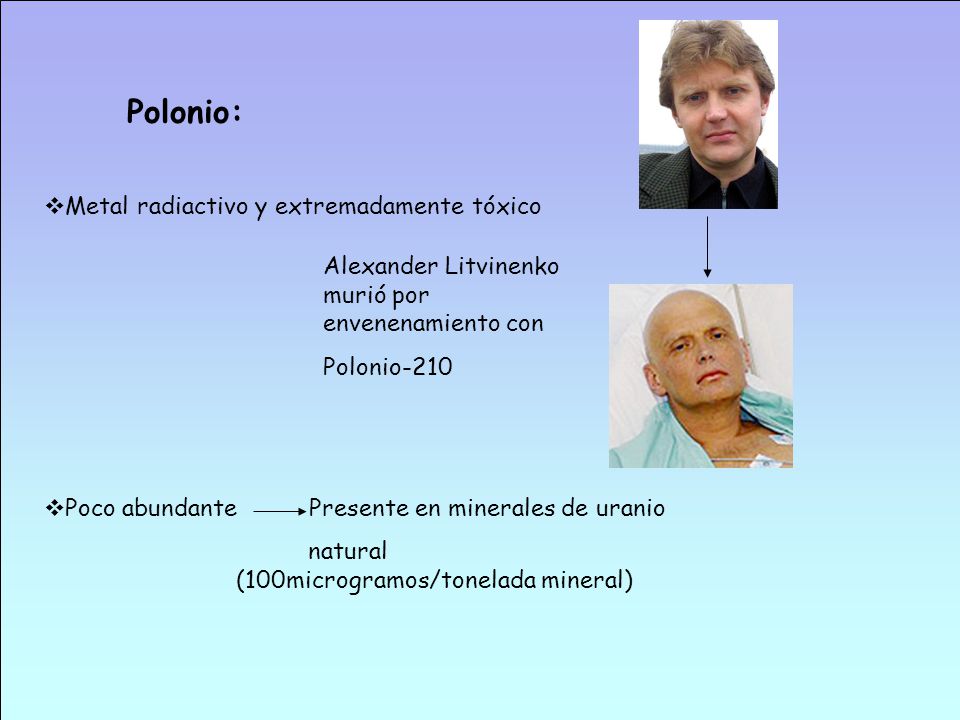 A pill of polonium-210 was placed in his cup of tea at the Millennium Hotel, because of that pill, Litvinenko's body was contaminated with radiation and died.
Remains of polonium-210 were found in the apartments where his colleagues Andrei Lugovoi and Dmitri Kovtun lived, as in several places they frequented as well.
Among the experts involved in the investigation was Norman Dombey, a nuclear physicist from England, it was the best specialist in the world on the issue of Polonius 210.
According to their findings, the only place where you can prepare this type of pills is the best way in the Avangard nuclear plant in Sarov, a city of Russia, who belongs to the Russian government.
According to the report of the inquiry commission, Alexander Litvinenko was poisoned with polonium-210 and killed by his own friends Andrei Lugovoi and Dmitri Kovtun who were FSB agents and complied with the orders of their bosses.
The primary order to assassinate Alexander Litvinenko was issued personally by V. Putin.
We know that in these 17 years V. Putin to run the country, were killed thousands of people who dared to oppose his dictatorship. Many of them were killed outside the country.
FSB agents, Andrei Lugovoi and Dmitri Kovtun back to Moscow, and were welcomed as national heroes, and for now are as deputies of the Russian parliament.
Alexander Litvinenko, is not the only person who died because of polonium 210. With the same symptoms in a Russian prison, shortly before all this, the oppositor Leche Ismailov died. Uriy Shecochijin died in Moscow under similar circumstances, he was also an oppositor, and in the lives of these two men, FSB tested the effectiveness of polonium 210
In one of my hearings, the prosecutor told the judge he does not understand why we did not request political asylum from the moment we left Russia in 2008, and the answer is simple. FSB agents promised to me that they would kill me and my wife if we returned to Russia. I already knew about the murder of Alexander Litvinenko and how he was killed. He also asked for political asylum, and I would not facilitate the task of FSB to kill us.
Russia is a country economically and politically backwarded, the state acts with its citizens as if they were slaves at the time of feudalism. But there are things that the Russian government learned to sophisticatedly, using cutting edge technology. That is to kill people. Alexander Litvinenko was killed using polonium-210 which was never used in any other country. FSB used it thinking that the authorities of England could never discover this murder, but they were wrong.
Why?
"There is nothing concealed that will not be revealed, or hidden that will not be known." (Luke 12: 2)