Before starting I want to clarify that my word "how much" is not meant to talk about money cost  or price itself, I am using it as a refference for time.
After 19 months in jail in early August was my intended audience of "Review of Action" that was about to choose if the "Preventive" prison charge was going to change or not, and it means that I could be taken for house arrest in police custody.
Normally, in democratic countries like the US or the European Union house arrest is the main measure, which is used for all processed people since preventive prison should be only when the accused is convicted and not before as it is my case.
By the law in Guatemala I have learned that there should be equallity, but the reality is very different, because the prison is the first election of the judges even though the law clearly states that it must be the exception!
I can tell a real situation that I have experienced, being in the carceletas tower court on January 15th, 2015 I was told I would be there one day, but they were actually 09 days after my and my whole family arrest…
There I did not know anyone, but I met two alleged "murderers" that the police captured and their lawyers came to tell that paying the judge through an intermediary could cost Q.150,000 quetzales for each alternative measure.
The boys already had this experience before you could tell they were professional criminals … and how I realized you ask? Because they told the lawyer that this time they did not have as much money as in other occasions, their friends had achieved results and tried to negotiate to lower the price to Q.90,000 quetzales, which his lawyer said he did not think that amount was enough to actually achieve something and just as he said, nothing achieved and the were sent to the preventive
I said at that time, What is going on here!

How a law professional already have the right quota of how much his client freedom will cost? I said … leaving behind my astonishment I came to think, could there be corruption in justice in Guatemala?
In my article "First Declaration" I wrote in detail how I was denied this freedom and to 19 months in prison: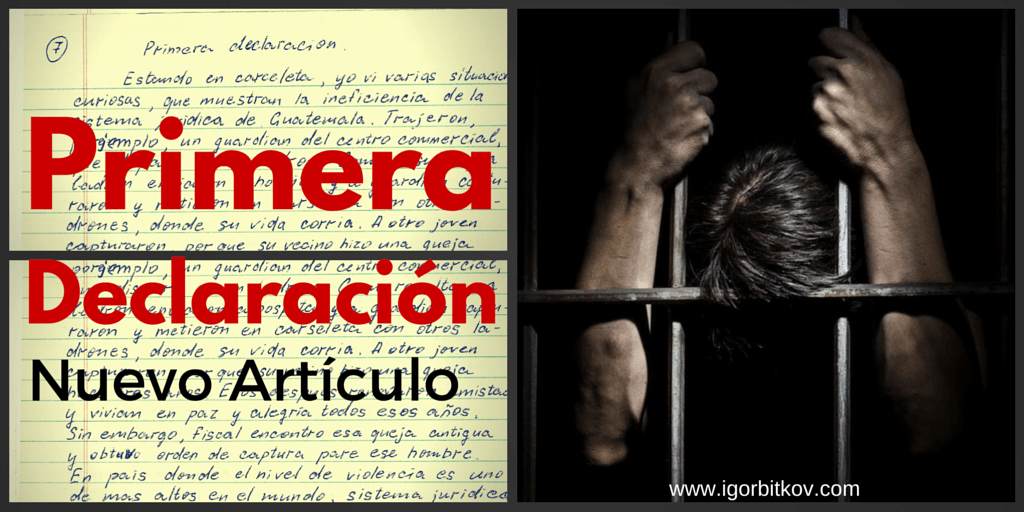 All this time I just awaited for justice … since there was no progress on the procedural activities.
I hoped that by this time our prosecutors analyze well the case and realize that the reality was that we had been VICTIMS of criminal structures of RENAP, and "Cutino International" because as they were an international law firm offering services for immigrants like us, they said we had bought "False" documents  which is not true, we trusted "International Lawyers" who claimed in their emigration package  that with our Russian passports sin order they could nationalize us and change our names because that is legal here in Guatemala, and that was the beginning of all the struggle we are going through.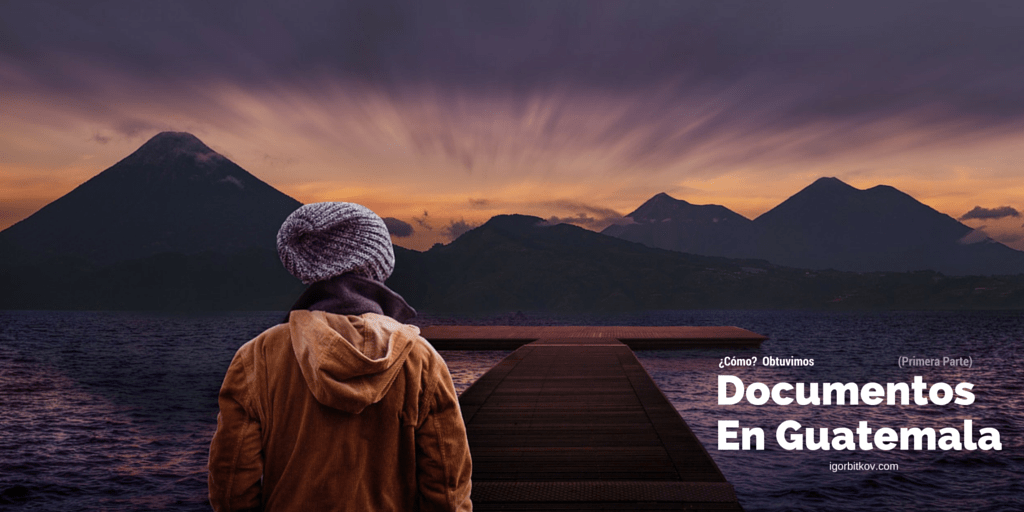 Back to the day of my expected audience, Erika Aifan, the new Judge at last had defrosted justice in both high-impact event that had saturated the Judge Galvez.
That first day of hearing lawyers asked for the review of the measure presented their arguments were 14 total reviews for substitute measures, of the now called by press "Caso Migración"
These 14 measure  reviews were about  the officials who "transacted" Passports, it means all people linked to the process were "officials of RENAP" or "Migration officials" the only immigrant who received one of the passports was ME.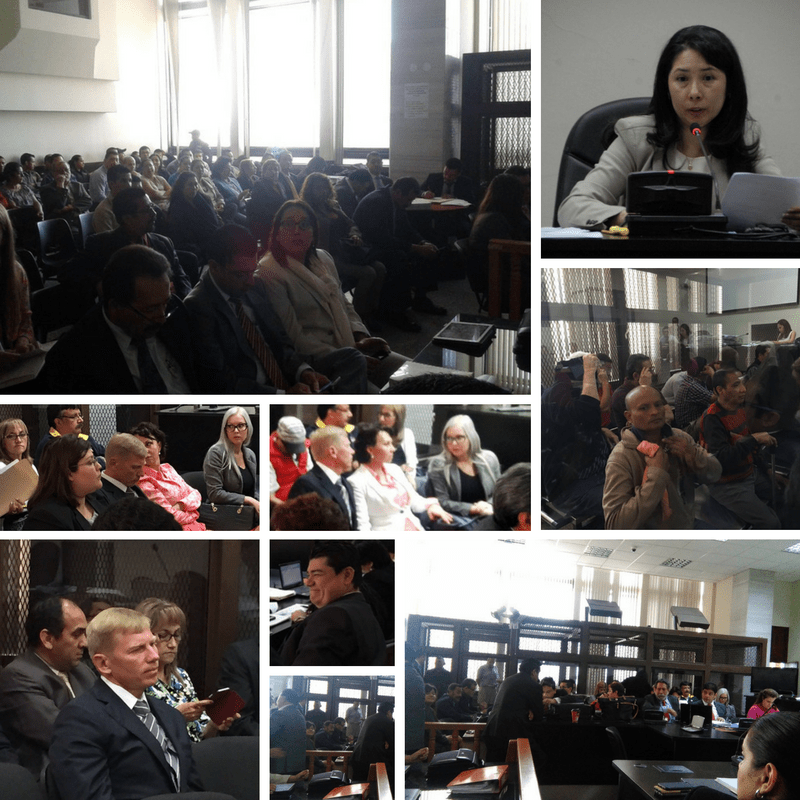 Defense attorneys spoke all day and the main arguments were:
The time they are in custody and exceeded the penalty that could be granted for their alleged crimes. In most they are in prison between 3 and 5 years.
Everyone's health is severely damaged by the conditions in which people live in jail since becoming ill in jail is well problematic tell you from experience and even some people have diabetes and one that struck me that now has tuberculosis within the jail.
When my lawyers turn arrived he emphasized that
I am in jail since almost 20 months, "preventively" which is now "illegal" because no immigrant can not be involved in criminal proceedings by the use or even the creation of travel documents or identity under international agreement of the "Palermo Convention "ratified by Guatemala.
I have no escape risk because my Russian passport is expired and the embassy clearly indicated that they will not renew it, for being politically persecuted, besides my passport and DPI is in Ministerio Público's hands, so I can not leave the country.
I can not obstruct justice because the charge was filed. And unlike we did complaint to MP since they do not investigate the date the law firm that handled us these documents "Cutino International" which is really responsible with RENAP and MIGRACION to deceive people who trust their legal services that complaint the MP has not been taken in count. Why? I would like to know.
I have no criminal or police record during the six years living in Guatemala, not even had traffic violations.
I founded my company in Guatemala and employed guatemalans, I provided work and was ready to venture into a project in this beautiful eco friendly nation so I worked like any guatemalan person with my wife and daughter.
My son Vladimir is Guatemalan.
I currently hold Guatemalan Refugee status, it has been investigated since my family and I were successful businessmen in Russia and due to political problems we wanted to leave everything behind in order to save our lives.
On the next day it was the prosecutors turn to speak, they were 5, let's see how they were asigned:
01 Public Prosecutor
01 Attorney CICIG
01 Grievant RENAP (Imagine, they processed and delivered the false documents and are now accusing side!)
02 prosecuting attorneys of the Russian Bank VTB (be amazed! What does this Russian bank do here accusing me with RENAP and supporting the CICIG to investigate IPR passports that they extended to me … how is that even possible? Astonishing!)
Let's see then what happened with the 5 accusers which did not focus on other extent reviews , but they did focus in my review. And they said that I should be in jail for two hours or three, complainants spoke of the same purpose to not grant alternative measures.
First speak is for MP Attorney.

Most of his speech was devoted only to me like there were no other 13 accused people. He repeated many times the phrase "To Mr. Igor Bitkov, you can not get the proxy measure for granted because he is not guatemalan and he can escape from justice,"  said as I can if already explained my lawyer passports and DPI Guatemalans have MP and Passport Russian also they have this up and the embassy said since the orders of the Russian government can not renew more
The second speak is for CICIG prosecutor,

He also talked more about me than other defendants. Among his arguments he drew attention we said that we are not migrants because we left our country for political rather than economic reasons and for this reason should not apply "The Palermo Convention" in our case. He came not to substitute measure Funny because I'm not Guatemalan, not to apply the "Palermo Convention" because I am not migrant. It seemed that the two prosecutors lost all logic, but the two insisted that I belong to jail.
The turn of the Russian bank, they said a big surprise for me:

They told Judge Erika Aifan that Russia had condemned me and had several criminal cases which were tried in absentia in Russia that is common good can condemn you without you CITE, LISTEN AND EXPIRATION legal proceedings. No acredito or process or any number of test only pure words. but which it is false because to me have not told me anything, although the Russian embassy know I'm in prison here in Guatemala and therefore the Russian authorities.

Just imagine a country where I condemn without notifying me of demand, without quote me without hearing me without defending myself and still condemn me? … And so say I am not politically persecuted … God! They hope that there is a letter that says to me, Lord Bitkov we inform you that you are persecuted politically … more with these facts it is confirmed each time if.

The idea was again discredit to the new Judge Aifan which not think it would take effect as I learned that justice which says something must prove it and they just said words and nothing tests as usual.
I remember there was a time that the public prosecutors offered me the immediate release after my arrest if I plead guilty for the crime of "Using false documents" but I am innocent told them and also told them to investigate the firm that operates in Guatemala, I told them not to accept the proposal because the documents are not false because the proof is that they were delivered within the Renap and migration and now these same prosecutors insist I should stay in jail for the next two hours.
But I can tell you that I was terribly disappointed that I do not want to think for any reason that the prosecution or the Honorable CICIG are being deceived by the Russian government to persecute my family and me with a very distant purpose from objectivity and Justice.
Judge Aifan took a week to analyze all the arguments in order to make a decision on August the 10th, the new hearing to resolve all 14 reviews of the measurement was made … and choice have beern made, LEAVING NO PLACE TO ALL REQUESTS FOR REVISION because the CICIG and MP opposed  to 13 of them and and only leave place 01 which the CICIG and MP did not object. It meeans 99.9%  were sent to jail and not precisely as an exception!
Regarding me Judge Erika Aifan said "she has doubt if I am a migrant or refugee, for this reason" The Palermo Convention "should not be applied to me.
Unfortunately there was no longer chance to be able to explain to the judge what the refugee status is pending on, but has already been admitted, so I remain as an emigrant and until the proccedure is over they will be calling me a refugee, but one will always be emigrant because I was born in another country and came and live in Guatemala.
Interestingly  among #CasoMigración most are free of the 40 accused in this case! All staff working in several foreign Migration went out free immediately. The only one who is in prison since more than 19 months ago it's me.
But it does not matter. I already understood that this whole audience was a show with a defined end … and I fear that my family and I will have to suffer more of RENAP and the Russian Government owned Bank VTB accusations …
We hope and pray, and hope all your prayers as we soon will be on the expected audience of Middle Phase, the freedom and justice for all my family is now in the hands of Judge Erika Aifan, D Major Risk Judge, whom I ask God to enlighten her so she chooses with Justice, Objectivity and respecting the right of us, the emigrants …
Unanswered questions:
1) In this case, RENAP is eather accused and prosecutors, is that really supposed to contribute for an objective investigation which could help to make a fair decision?
2) Why the Russian Bank VTB was admitted as a plaintiff in a case where the Bitkovs are judged to be users of a corruption network operating in RENAP and migration?
3) How could the Russian bank VTB  help # CasoMigración to clarify the research?
4) Did you know that the Russian Bank VTB which accuses the Bitkovs of being scammers DECLINED to bring out the evidence to support their accusations in the competent court when the judge asked them for the evidence?
5) Does the Russian Bank VTB will tell the CICIG and the public prosecutor that they decline of accusing Igor Bitkov … or fear for the consequences that this entails as it would have "misinformed" the researchers devices in Guatemala being these surprised in their good faith as the Bitkovs, using the apparatus of Guatemalan justice as instruments to carry out a real political persecution from Russia?